First and foremost, this article should not scare anyone, but it will inform you on the subject and we all know knowledge is power!  Killearn and five other neighborhoods in Tallahassee were developed during times where air conditioners were not paired with heat like today's heat pump technology.  Heat back in those days was primarily provided by natural gas and heating oil fueled furnaces.  Heating oil was stored either in above ground or below ground tanks.  Most of the tanks had a storage capacity between 250 and 750 gallons.
The preferred method of storing fuel oil was in below ground tanks, usually located on the back side or the corner of a home near the driveway.  The surface expression of the tank is a pair of galvanized pipes; one for filling the tank and one for a breather vent for the tank as illustrated below: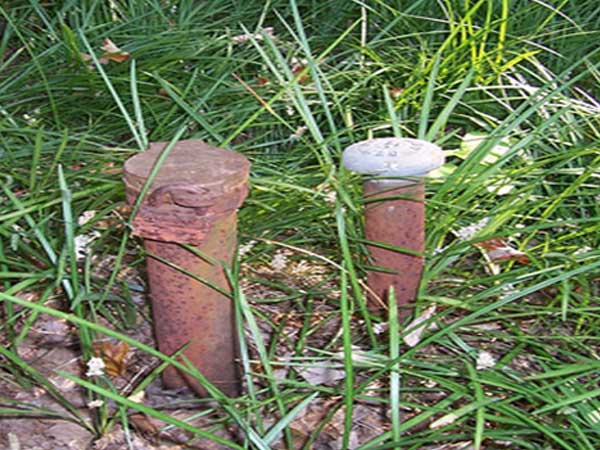 These tanks are not regulated by either the State of Florida (FDEP) or the Federal Environmental Protection Agency (EPA) until such time that they have any kind of release or leak.  The potential for these tanks to leak is extremely low, especially when the tank is less than 40 years old.  If a leak should occur, the fuel typically does not travel a long distance from the source.  Any release can be handled by following the cleanup provisions of Florida law.  Truthfully, it is better not to get in a cleanup situation. If a tank is no longer being used, it can and should be properly closed in place or removed (these are the two options available when a tank is no longer in service).
With regard to tank closure, the tank can be removed or cut open and filled with sand.  This can be accomplished after the tank is pumped of any liquids, inspected, and cleaned if necessary.  One day of work almost always completes the job.  You should request a formal report be prepared and signed by an authorized professional for documentation of your property records.
One of the primary things to think about when you have a heating oil tank is disclosure of this aspect when there is a pending sale of the home.  Although a heating oil tank can be easily handled from a closure standpoint, the unfortunate stigma of having the tank can slow down or even sometimes kill a property sale.  A formal report of tank closure can end all speculation and allow property negotiations to continue.  This worthwhile and invaluable planning can be something to both think about and deal with on your own terms and when it is convenient for you.